The History of KIBS Kagyu Institute of Buddhist Studies by Shangpa Rinpoche
(since Febr. 2011 supported by KHCP)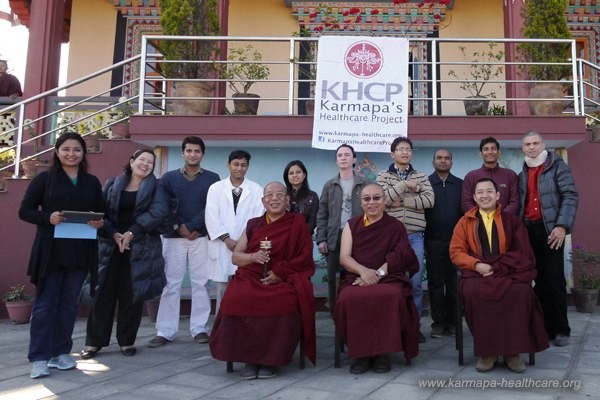 Kirtipur Monastery (where the Kagyu Institute of Buddhist Studies was later built) was initially only a small house on an open field. It was built by some devotees of His Holiness the 16th Karmapa and was offered to His Holiness as a token of their devotion to him as their Great Spiritual Leader when His Holiness first visited Nepal . Since then, His Holiness the 16th Karmapa had appointed lamas from Mendong Monastery to take charge and run the Kirtipur Monastery. Until now, not only has Kirtipur Monastery played an important role in being the sanctuary for many high lamas to complete their spiritual practices, it has also been an important source of spiritual guidance, teachings, empowerments and inspiration to countless lay devotees.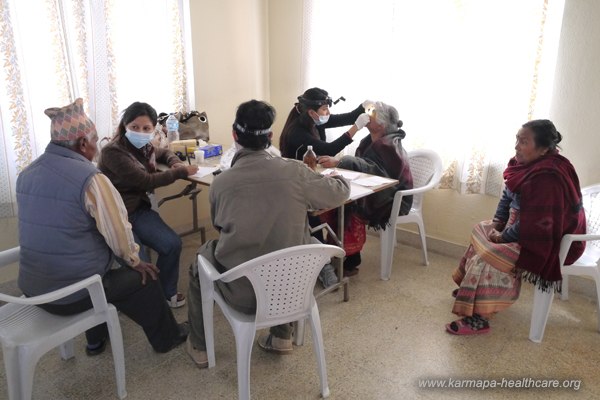 At the turn of the Century, the last resident lama of Kirtipur Monastery, Kunkhyab Rinpoche, made an earnest request for Venerable Shangpa Rinpoche to take charge of the running of Kirtipur Monastery as well as its future developments. Touched by his sincerity, Venerable Shangpa Rinpoche accepted this responsibility. Venerable Shangpa Rinpoche felt deeply that the Monastery possesses great potential to benefit many more sentient beings but was restricted by its lack of facilities and limited size. Shangpa Rinpoche's vision was to establish a Buddhist Institute in which both monks and lay followers could engage in the pursuit of Buddhist Philosophy and meditation - an institute for higher learning in Buddhist Studies for all.
Like all auspicious undertakings, the project of building the Kirtipur Institute Of Buddhist Studies (KIBS) which was initiated in year 2001 faced an extremely tough beginning. Its path was strewn with obstacles. Shangpa Rinpoche's sincere appeal and compassionate motivation behind building a Buddhist Institute for the benefit of all moved many devotees to contribute to this noble undertaking. Faced with a bad global economic climate, fund raising was made even more difficult. But due to the perseverance of many devoted disciples from the Himalayan region, various parts of Southeast Asia and Europe coupled with their fervent prayers and the blessings of the Triple Gems, dribs and drabs of funds began coming in from all over the world. The funds were utilized for the construction of the Institute. Devotees contributed in every way they could towards the building of KIBS.
It is poised to benefit countless followers in the generations to come. Devotees who are armed with the technical expertise in architecture, engineering and construction gathered together to give the project their fullest support on a solely voluntary basis. Disciples from all over the world visited Kirtipur with Shangpa Rinpoche to gain a better understanding of this great vision of Shangpa Rinpoche in establishing this institute. Shangpa Rinpoche's vision is to establish a place to propagate the Buddha Dharma, to instill and impart knowledge in Buddhist Philosophy. A place for practitioners to retreat and learn, where they can attain a peaceful heart and a harmonious mind. Upon gaining a better understanding of Shangpa Rinpoche's motivation behind the project, followers contributed even harder and more tirelessly towards the realization of his vision - The establishment of KIBS.
KHCP - Karmapa Healthcare Project
The KHCP provided diverse medical campaigns here. Detailed reports you find on our BLOG.
For their annual medical care budget every small donation is welcome.
!Attention NEW!
Donation Account
Account Holder: KHCP e.V.
Sozialbank AG
IBAN: DE34 3702 0500 0020 1467 11
Account No. 20146711 | BIC: BFSWDE33XXX

Or donate one-time or monthly directly here
Online via PayPal