New 220V-Inverter for Kagyu-school in Rumtek/Sikkim/India


Venue: Shamar Rinpoche's school in Rumtek
(1510m altitude)
-------- Original Message --------
Subject: Inverter
Date: Fri, 19 Aug 2016 14:33:33 +0530
From: choltem <This email address is being protected from spambots. You need JavaScript enabled to view it.;
To: Peter+Pia Cerveny - KHCP-Karmapa Healthcare Project <This email address is being protected from spambots. You need JavaScript enabled to view it.;

"Dear Peter + Pia Cerveny,
Hello Tashi Delek! How are you doing ? Hope everything is going well with you guys over there, regarding our monks we all are very fine and doing our daily activities well.
Today we just want to inform you that last time KHCP gave Euro 1000 to our Monastery for extra use. And this money we spent on Inverter because at our place electricity condition is very poor. So the Inverter is very essential for us and we bought it by this money and it is very helpful for us.
Thank you very much once again for that, we have pasted the picture of Inverter as well you can see it.
Hope to see you soon till then take care bye.
With many greetings
Rumtek Sangha Duche"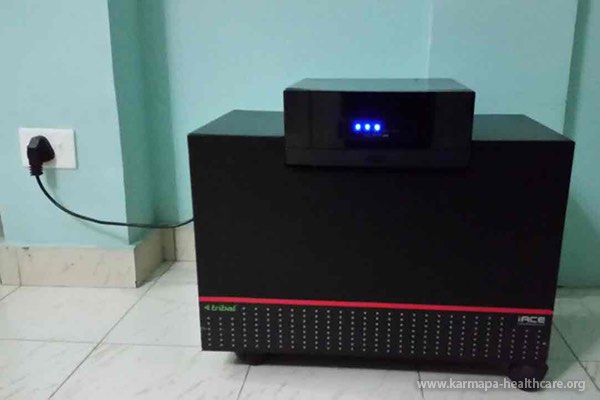 The new inverter for 220V
Enlarge the pictures
by mouseover or click!
For our next campaign we need your support, thank you.
!Attention NEW!
Donation Account
Account Holder: KHCP e.V.
Bank für Sozialwirtschaft AG
IBAN: DE34 3702 0500 0020 1467 11
Account No. 20146711 | BIC: BFSWDE33XXX

Or donate one-time or monthly directly here
Online via PayPal