Annual Report 2016 of KHCP

Download PDF in more languages
Dear KHCP friends,
like in the previous years, we once again thank our supporters from our very hearts. A total of about 88.000€ was raised and – like in all the previous years – these funds will be swiftly allocated to their purpose.
Dr. Sonam and his team of Dhulikhel Hospital have once again travelled the Himalayas, setting up 18 medical camps and helping monks, nuns and also laymen alike. Throughout the year, we provide you with detailed reports on their work via Facebook and our website.
The 9th Monlam Medical Camp was as successful as always. More than 30 helpers from the "East and West" were involved and managed to treat about 1800 people.
Karmapa took the time to hold a 2nd meeting with all leaders of Karma Kagyu Institutes and Projects, in which Dr. Sonam represented our group. If you want to take part in this unique experience in the future, just contact us at This email address is being protected from spambots. You need JavaScript enabled to view it..
We would like to thank Ulrike for her volunteer work as a tax counsellor. Due our growth, this task could no longer be taken care of by volunteers and was therefore handed over to tax advisor company Connex. For contribution receipts (only for German donations exceeding 200 Euros/year) please contact This email address is being protected from spambots. You need JavaScript enabled to view it.
Our deepest appreciation and heartfelt thanks to every supporter! Because of you, we are able to reach so many people with our help. Have a look at the chart with the current amount of donations by visiting the welcome page of our website.
For 2017, we need to collect a minimum of 100,000 Euros a year to be able to provide the most basic of medical treatments.
We got the request to now also taking responsibility for another Karma Kagyu monastery – Ray Monastery - located above Rumtek with about 65 new friends. We try our best to fundraise the needed donations for that.
Thanks to all the friends everywhere! COME TOGETHER
Yours,
Pia and Peter, the KHCP team and the board of directors of Karmapa's Healthcare Project e.V.
Find out more about all of last year's important activities here on our website (> What we do > NEWS).
Or connect with KHCP on Facebook and read many smaller blogs there.
www.facebook.com/karmapahealthcareproject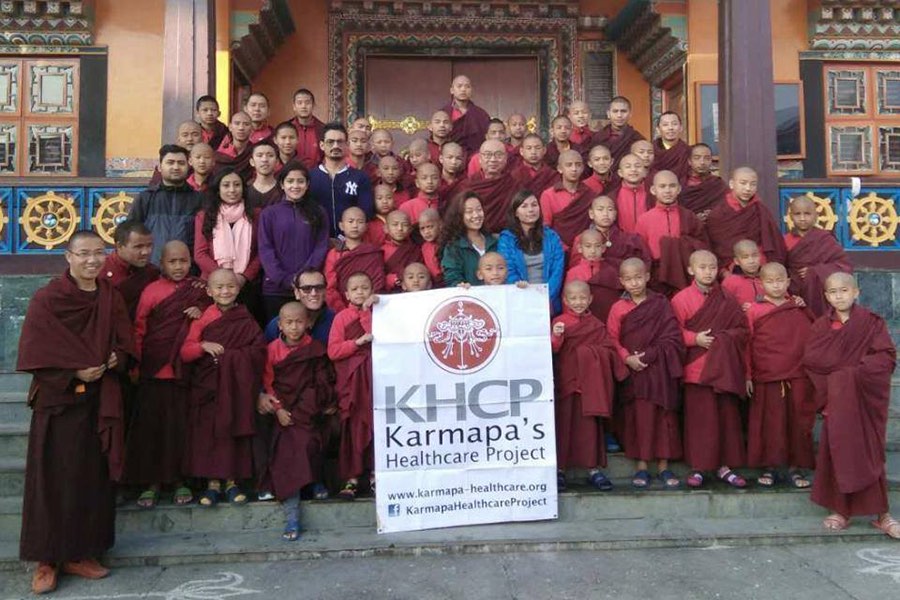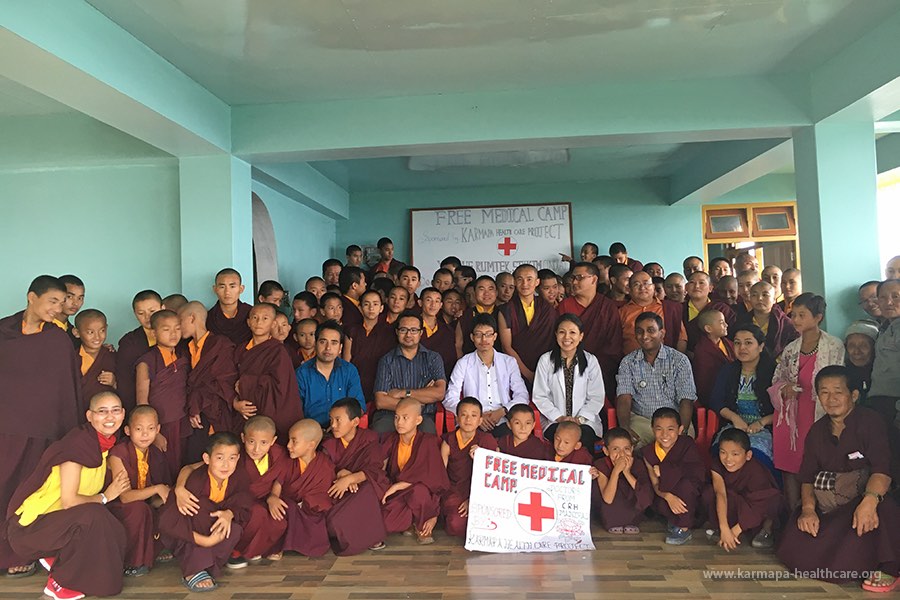 All KHCP medical camps in 2016
12-2016: 9th KHCP-Medical Camp at Kagyu Monlam in Bodhgaya/India
11-2016: KHCP-DHK-Medical-Dental-Optician Camp at Matepani Monastery in Nepal
11-2016: KHCP-DHK-Medical-Dental-Optician Camp at Jangchub Choeling Monastery in Pokhara/Nepal
9-2016: KHCP Medical-Optician Camp in Rumtek/Sikkim/India
08-2016: KHCP/DHK-Medical- and Optician Camp in Takdah/Darjeeling/India
30.8.2016: Medical Camp at Shedra Kalimpong/India/Westbengal
22.08.2016: KHCP Medical Camp in Rumtek/Sikkim/India
08-2016: Checkups and health instructions at Dhargye Chokhor Ling Monastery in Bodhgaya/India
20.07. - 07.08.2016: Medical Tour to Kalimpong, Darjeeling and Sikkim/India/Westbengal
06-2016: Medical-Dental-Optician-Camp at Sangey Choeling Monastery, Kimdol, Swayambhu/Nepal (Monastery of Lopön Tsechu Rinpoche)
05-2016: Medical-Dental-Optician-Camp at Lhundrup Choling Monastery, Bhudhanilkantha in Kathmandu Valley/Nepal of Sang Sang Rinpoche
05-2016: Medical-Dental-Camp at Healtcare Center at Sharminub Kathmandu
05-2016:Medical-Dental-Optician-Camp at nunnery of Sherab Gyaltsen Rinpoche in Kathmandu/Nepal
04-2016: KHCP-Medical-Optician-Dental-Camp - BIA Sertshang Orphanage Kathmandu/Nepal
04-2016: Medical-Dental-Optician-Camp at monastery of Shangpa Rinpoche in Kirtipur/Nepal
04-2016: Medical-Dental-Checkups at Karma Tharye Monastery of Beru Kyentse Rinpoche in Boudha/Kathmandu
04-2016: Neurological Medicalcamp - BIA Sertshang Orphanage Kathmandu/Nepal
01-2016: KHCP-DHK-Medical-Cardio-Dental Camp at Dhagpo Sheydrub Ling Monastery in Nala/Nepal
Donation Account
Account holder: KHCP e.V.
Bank: Deutsche Postbank AG
IBAN: DE66 2001 0020 0012 2252 01
BIC/SWIFT: PBNKDEFF

Or donate one-time or monthly directly here
Online via PayPal